I realize my blogging is off to a rocky start, with no update in quite a few days. I just didn't realize how scary a sick child could be. Lujain's fever kept spiking to 39.5 degrees Celsius, and our thermometer screen goes red when it's anything above 39.4. So, every time I took her temperature I had to struggle to keep from completely freaking out.
As first parents we took her to the doctor when she was lethargic and the fever wouldn't break. The doctor told us to keep giving her the cold and flu medication we had her on, and suggested SedaFlu (an herbal cough syrup). I an not a fan of fever medication, but in the case of a 10 month old we really didn't want to take any chances. Unfortunately Lujain's stomach did not feel the same way. By the next day she had projectile vomited both Ibuprofen and Capol, so we went back to the doctor. He told us not to worry and that she would be fine in 48 hours, but her stomach would be a bit sensitive.
Lujain refused food in all of this. I would sit her in her high chair and she would just wail until I picked her up. For the first week and a half we were back to the newborn days where all I did was breastfeed her for hours. When my husband returned from his business trip he took over kitchen duties and he is a master at steaks. They are always perfectly cooked, just the way I like them, with a simple side that lets the awesome meat shine through.
For breakfast though, the yogurt saved me. Since it requires very little attention, but a lot of time, I could easily put the yogurt on the stove, and feed Lujain while it was boiling and come back to let it cool.. I had it with granola, in smoothies, and what has become a favorite breakfast, these blueberry muffins.
I found the recipe on Baker By Nature : Healthy Greek Yogurt and Blueberry Muffin, but adjusted it a little. Of course I used the Homemade Yogurt I had in the refrigerator. I wanted to make it baby friendly in the hopes that Lujain would take a bite. This recipe is great as is, and I would suggest trying it that way first (if you don't have an infant under 1 that you want to give some to). But, it does include honey, brown sugar and vanilla extract, which are ingredients I don't include in Lujain's diet. It also calls for a 1/2 a cup of whole milk. For babies under 8 months old I would suggest replacing the milk with 1/2 cup of water and a teaspoon of melted butter. Children under one shouldn't have any milk as a drink because it includes enzymes that hinder the absorption of iron in the system. In baked goods however, enough of the enzymes are broken down so that tummies older than 8 months can do the rest of he work.
The biggest challenge was finding substitutes for brown sugar and honey. I wanted these muffins to get as close in taste and texture to the original. I decided to use date sugar because it's just ground up dates, which have incredible nutritional value! They are certified by the American Heart Association which means they are low in saturated fat and cholesterol. Date sugar, unlike it's white counterpart is full of calcium, iron, magnesium, phosphorus, zinc,iron, copper, manganese, and selenium, all great for a growing baby.
Date sugar is a lot sweeter than brown sugar, and has a very distinct taste though. So instead of a 1/2 cup and 3 tablespoons of brown sugar I used a 1/4 cup and 3 tablespoons of the date sugar.
Honey is really important in my house. I have three different kinds from Yemen, Kuwait and Holland. Each has its use and I can't get enough of them. Unfortunately, honey could make your baby very sick. According to the UK's NHS website in the article Foods to avoid giving your baby, "occasionally, honey contains bacteria that can produce toxins in a baby's intestines, leading to infant botulism, which is a very serious illness. It's best not to give your child honey until they're one year old."
So, I substituted sugar cane molasses. Molasses is the by product of the sugar industry. It's the result of two boiling processes which removes all the nutrition from the sugar cane to create white sugar. Unlike the white powder, this black syrup is filled with iron, calcium, magnesium, vitamin B6, and selenium among other vitamins and minerals.
Of course, it being sweet Lujain did have a couple bites here and there, but I didn't giver her too much when she was sick. Now that she is all better, she's happy to have her own, and I've even started making the mini versions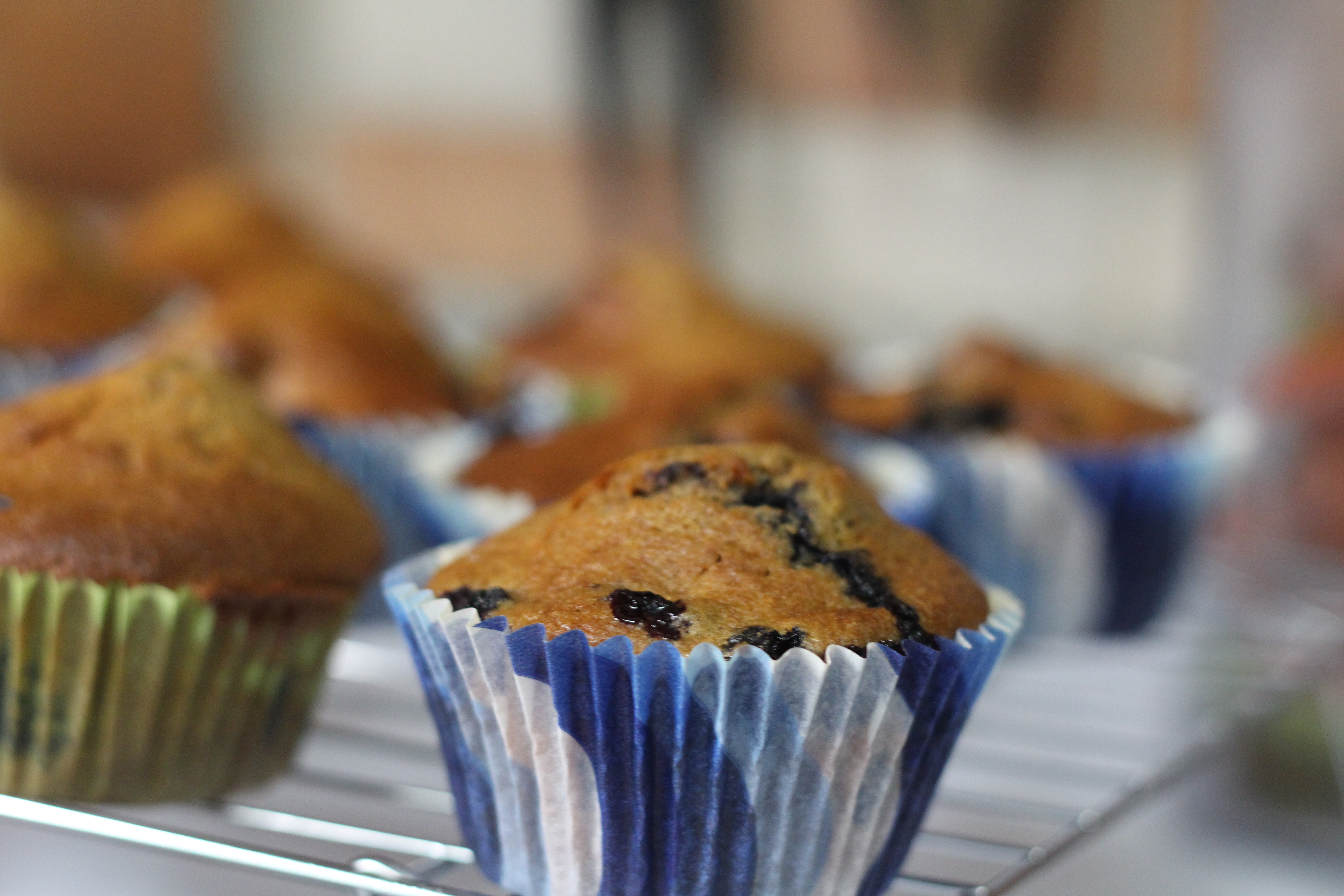 Baby Friendly Blueberry Yogurt Muffins
2017-01-09 01:04:22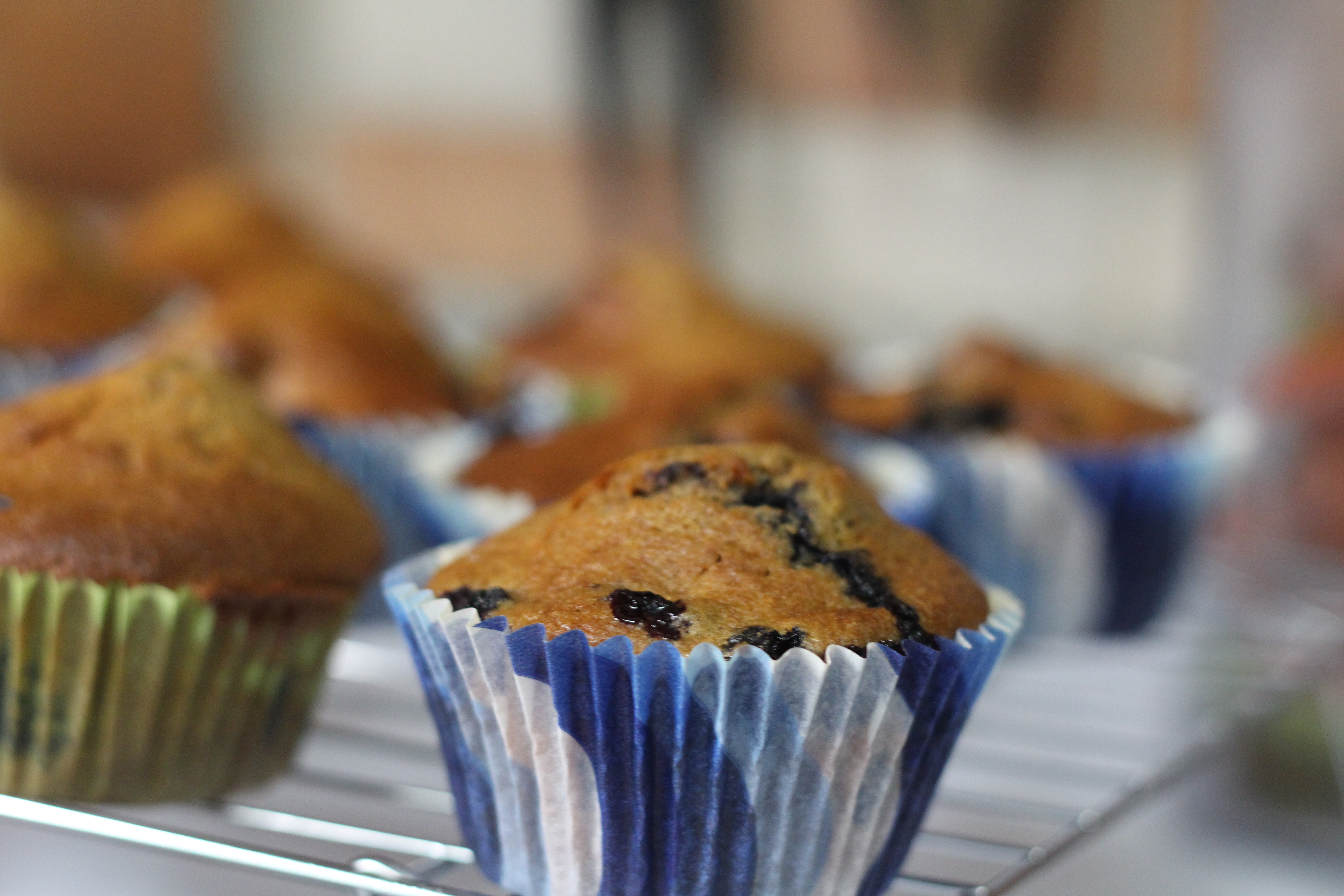 This baby friendly blueberry muffin will be a hit with your little one, and everyone who likes a treat without the guilt.
Ingredients
2 c spelt flour
1 c all purpose flower
1/4 cup + 3 tbls date sugar
1 tbs baking powder
1 tbs baking soda
3/4 tsp sea salt
1/4 tsp vanilla beans
1/4 tsp cinnamon
1 cup of homemade Greek yogurt
1/2 cup of whole milk (for babies less than 8 months use 1/2 cup of water and 1 tsp melted butter)
2 large eggs
1/4 c sugar cane molasses
1/2 c sunflower oil
1 1/4 c blueberries
Instructions
Preheat the oven to 200 degrees Celsius
Put the flours, sugar, baking powder, baking soda, salt, vanilla, and cinnamon in a bowl and whisk them until they are completely combined.
Put the yogurt, milk (or water and butter), eggs, molasses and oil in a smaller bowl, and whisk them until they are completely combined and there are bubbles on the surface.
Push the dry mixture up against the side of the bowl until you form a clear round area in the middle.
While pushing the dry mixture around from the bottom up with a spatula, slowly dribble the wet mixture into the middle.
Fold the mixture just until the flour disappears.
Line a 12-cup muffin tin with paper, or simply grease the cups with oil and lightly dust with flour.
Fill each cup 3/4 of the way.
Bake for 9 minutes.
Reduce heat to 180 degrees Celsius.
Bake for 9 minutes
Remove from oven, and let it cool for 5-10 minutes.
Take the muffins out of the tin, and let them cool COMPLETELY! Resist the urge to try them before they cool or they will fall apart in your hands.
Adapted from Baker By Nature
Homemade or not at all http://homemadeornotatall.com/