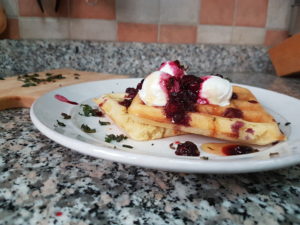 Yogurt Waffles
2016-10-19 22:32:46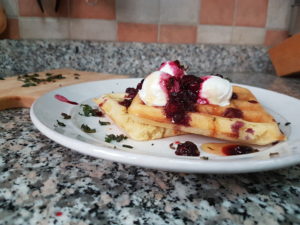 Serves 2
Homemade yogurt makes a fantastic topping to these delicious waffles. (Note, a waffle maker is needed)
Ingredients
2 c. Homemade Yogurt Check out how here!
2 cups Stonewall Kitchen Gluten Free waffle mix
1 egg
1 cup milk
Berry Mix
1/2 cup blueberries
1/2 cup blackberries
3 Tbl honey
Instructions
1. Heat your waffle iron to a medium high heat.
2. Mix waffle mix, egg and milk together with a whisk until the batter is smooth with no bumps.
3. Spray your waffle iron with nonstick spray or use a kitchen brush to ad a light layer of butter on the waffle iron.
4. Pour the waffle mix onto the iron. Let cook for 10-12 minutes
5. While the mix is cooking place the berries and honey in a small sacepan with 1/2 cup of warm water. Let simmer for 10 minutes.
6. Plate the waffles with a dalop of your homemade yogurt, or the store bought ones if you prefer, A spoonful or two of the berry sauce and a drizzle of maple syrup.
Homemade or not at all http://homemadeornotatall.com/